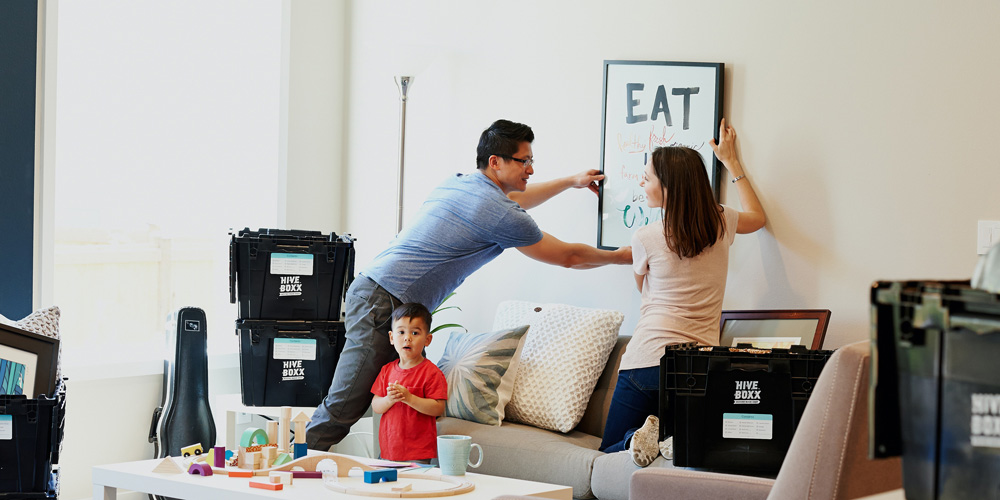 Leveling up in one's career or making a career transition comes with a lot of perks, including better pay and greater pride in what you do. But getting those perks means accepting responsibility. Such obligations or new job offers may include a request to relocate. You might decide to move for financial or family reasons. Or a requested move may be part of the tradeoff for climbing the company ladder.
In a 2019 survey, Robert Half shared that 62 percent of professionals would relocate for a job, with better pay and perks being the primary reason.
"Should I move for the job?" is an intimidating question and one that we discuss often at ArcVida. As part of the broader conversation on our community, our team addressed some points to consider as you're facing life in another city.

Avoid These Moving Mistakes
When moving for a job, what frequent mistakes do you see people making? What advice do you have for professionals moving?
Part of the fear of moving comes from making a tough decision that will change your entire life. Knowing you don't know everything you'd like to know, you'll likely experience uncertainty during this process. It's normal to worry about making the wrong moves and putting yourself in a bad spot. Our expert guides share their wisdom:
"I think one should know oneself and gauge their adaptive abilities to new places. If your new job will be mostly solo work, moving to a place with no existing friends is really hard. If you are moving to a place with a lot of family and the new job is demanding, you might need to set expectations on how often you can actually see your family (with yourself and them!).

Also, if you move from a city to a rural area or vice versa, understand how your day-to-day might be impacted.

It's really great to move for a dream job. Also, it is great to move to a dream city. Just know what and why you made the big decision and embrace it."

-Sharon Wang, ArcVida Cohort Leader and Founding Consultant at Pragmatic Strategy Co.

Sharon Wang, personal. All Rights Reserved
"For early-career movers, there is more flexibility and potential adaptations. Consider where you wish to be in five years. Does the opportunity pose longevity or simply serve as a springboard for the future?

For advanced career movers, you know where you are experienced and talented. Considering company culture and movement potential becomes more relevant. Some later career professionals might prioritize security and maximum compensation as part of their retirement plan.

Overall, know what you're seeking and manage your expectations. Do your homework, research the company and seek out at least one informational interview prior to the formal interview."

Calixto Meraz, ArcVida Mentor and Engineering Analysis Center Manager at SoCal Gas

Calixto Meraz, personal. All Rights Reserved
"Do your due diligence on both the location and the job! Go in with eyes wide open. I have always found seeking out my alma mater/university alumni clubs have helped me make friends when moving to a new city."

Tricia Kennedy, ArcVida Alumna

Tricia Kennedy, personal. All Rights Reserved
"Make sure you have a support network in the new place where you'll be living and working. Ask about transition resources that your hiring employer provides—from housing to personal things like where to shop or where to worship?"

-Ron Rapatalo, ArcVida Cohort Leader and Principal Executive Recruiter at Edgility Consulting

Ron Rapatalo, personal. All Rights Reserved
Who Should Consider Moving?
In considering the decision to move to a new location, who should consider making the jump to a different location for their job? And am I told old/too young to do this?
Making a move to a new spot isn't for everyone. It's possible that the person moving might not benefit from a change of scenery. Imagine the change you'd experience from moving from a small town in rural America to New York City. You need to consider things like how you'll adapt to your new home and how your lifestyle will change. Our expert Karen Cecilio said:
"I have moved for both personal and business reasons and here is my suggestion for comparison valuing your old versus new location. Make a list of the activities you do in your old location and check (online or in-person) to see if you can do those exact or equivalent things in your new location. Be honest with yourself about which items on your list are must-haves and which are things you have said you want to do in your old location but never got around to doing. Do not burden your new location with all your 'wish list/if only' items.

Family and friends will visit, and you will make new connections so weigh those appropriately especially if you are moving closer to family for a specific support reason (e.g., help with childcare). It does not always work as planned.

Moving solely for a job is tough. This is especially true if you are in a new location with no support structure from friends, family and hobbies. As you make your decision, ensure that you consider post-work hours and what you want to do with your free time.

As you age, change often becomes harder. So if you are looking to make a change remember that while moving is not a 'hard no' at any age, it just requires more planning and consideration."

Karen Cecilio - ArcVida Client Mentor - VP Diligence & Integration, Corporate Development/M&A - Cetera Financial Group

Karen Cecilio, personal. All Rights Reserved
When is the Right Time to Move?
When does one decide to move for a job? And how do you know when you've hit a satisfaction ceiling in your living area?
Making a move for a job, whether it's for a new career or a new opportunity within your existing organization isn't a split-second decision. You'll position yourself for success by weighing your personal pros and cons of relocation. We asked our experts guides how they've made the decision in the past or how they would consider the decision in the future.
"I moved for work.

The new opportunity was in a city where I could see growth in many areas: personal, professional, raising a family, better school system and an existing support network. I probably would not have moved if it didn't have most or all of these… I felt the "need to move" when I visited Dallas for a conference and lined up a few work meetings where I felt my energy flow very differently. I suppose I didn't realize how my needs had changed over the years, but my experiences and professional network... didn't evolve with me and a week in Dallas helped me articulate that in a more meaningful way."

- Dr. Aamir Ashiqali, ArcVida Cohort Leader and Sales Leader: Cisco BDM and Program Manager - Industrial Networking Solutions

Dr. Aamir Ashiqali, personal. All Rights Reserved
"When moving for a job, create a holistic view that includes your whole life, including your job:

1) Is the leadership, role, and expectation clearly articulated?

2) Does your family support your career aspirations? If yes, then moving for the right opportunity will be easier to accept once proposed. Communication with the spouse and children is a must. If no, then moving may not be right for you at that time.

3) Analysis paralysis - after you do your due diligence, you have to make a decision. If you make no decision, that itself is a decision. Be honest with yourself - are you running to something or running away from something?

4) Change is hard but also exciting. We have moved four times in the last seven years — both my wife and my careers advanced and the children thrived. Our formula is we communicate with each other; everyone in our family must share their thoughts before a decision is made.

5) When to leave? That is a personal decision that is based on many factors. However, if you have more "bad days" than "good days" or it's a "once in a lifetime" opportunity (e.g. wife's job transfer to India), you may want to consider taking action."

-Brian AiChang (MBA, PMP), ArcVida Client Mentor and Director at Network Access - Surescripts

Brian AiChang, personal. All Rights Reserved
Framework for Deciding to Move
Collectively, our team has moved many miles for job opportunities, promotions, or personal reasons. If you're wondering if the move will be "worth it," here are some steps to determine if the move is right for you.
- Be honest with yourself and your opportunities—beyond the job. As Brian pointed out, consider if you're running toward something or away from something.
- Seek expert guidance and a community of support both where you live now and where you're considering moving.
- Think long-term. Consider how your lifestyle may change if you move and what that means for you. Be prepared to face challenges in a new city, like finding friends, navigating a new neighborhood and keeping up with your existing hobbies.
30 percent of ArcVida's clients move before, during or after their career transition. Our programs are designed to help you find the role where you'll thrive, where you want to live.
If you're ready for a career transition or feeling stuck in your current position, schedule your free strategy call here and start moving forward.

-----------------------------
More Reading

5 Things You Should Do Now If You Are in a Career Transition
Published on 6/30/2021