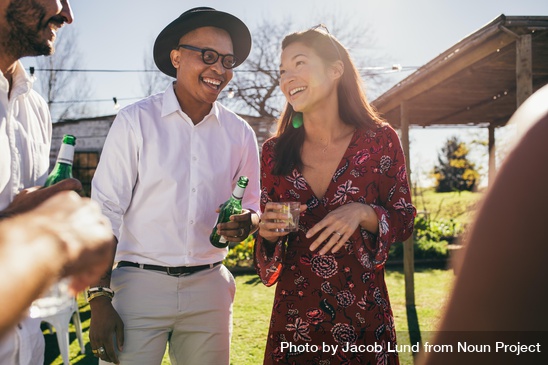 Now that school is out, many hot spots are still remote, and in-person networking events are coming back, it may feel difficult to connect with other professionals. But there are still ways to network with others in your field or aligned with your career goals.
People are eager to reconnect following the social distancing and lockdowns of COVID-19. This is the perfect time to take advantage of that excitement of meeting people again. Below, we prepare you on how you can successfully network with confidence during the summer.
What to Know Going In
People are more generally relaxed at outdoor events like a party or get-togethers. In these settings, you can approach people with friendliness and think about having a nice one-on-one connection or even reconnection. As many are just enthusiastic to celebrate, socialize and have fun – and that's not an invitation to immediately start discussing your professional aspirations. Be sure to read social cues and try to match others' moods and energy while in conversation.
What's Your Strategy?
Now that you got the basics down, how will you say hi? Just do it! Since we're all in a more relaxed setting, there's no reason to have a resume handy or have talking points locked and loaded.
In person, first, focus on building and strengthening relationships with people you know, then on meeting new people. Expand your circle outwards and then you can make easier connections. It's often easier to start by speaking with your more extroverted friends, colleagues and classmates.
After meeting up in person, make sure you're the first to give back. What can you share with your friend? Who do they need to meet? Can you engage on their LinkedIn posts for more engagement or give a colleague or classmate a recommendation on LinkedIn? Whatever you can do to support, do it so that your relationship won't feel one-sided.

What Are You Wearing?
Even at a business event, leave your black suit at home! Plus, who wants to don a heavy suit in 90-degree weather? Wear something that fits well and makes you feel confident. A crisp button-down and light-colored pants or a lightweight floral dress are always a great option. After this long pandemic season, you might need to buy a new outfit to look best.
Where's the New Hot Spot?
It may seem like there's a dearth of places to meet new people but as the summer continues on strong, you'll find there are more opportunities to meet up. Here are a few options on events you can attend:
Class reunions – There might be two to three years' worth of reunions missed so stay on the list for when they'll happen. Definitely attend – even online events are worth your time.
Local or regional professional mixers – Invite several acquaintances or friends to meet you there. If a few accept, you'll have good company. And inviting is a fast way to let someone know you care about your relationships.
Barbecues or block parties – Meet new friends and load up on snacks.
Create your own networking events – Friends will invite their friends and you can expand your circle. Some of our favorites include beach cleanups, hiking, and outside happy hours.
Picnics at a park or the beach – As more of a relaxed way to meet new people, your friends can invite others that could be connections or referral sources. These are great times to include and meet families too.
By inviting a mix of people you know and those you'd like to know better, you can create an environment for new friends to become supporters or connections.
Besides meeting in a new spot or event, a few ways you can be sure to meet people are to join a committee or volunteer to organize a program for a professional or non-profit organization. Summer is when most events are planned for the Fall and following Spring. These meetings are still mostly online and pretty easy to attend!
Or, if you have children between pre-K and college, you have an opportunity to meet other parents at school orientations, move-in days, field trips, and more. Go to these events when you have an opportunity to do so.
Don't Forget to Follow Up!
After meeting someone and making a connection, follow up with your mutual friend so that you can connect with your new acquaintance on LinkedIn. While sending a "great to meet you" message, here, you can add that you'd like to have a 20-minute "get to know you" chat and suggest a few good times. You'll be able to use your casual connection as a starting point and start building your professional relationship.
ArcVida mentor Ron Rapatalo shares this about following up with someone you already know. "I send a note (usually email, sometimes LinkedIn, maybe even a text) to thank them for spending time, share something memorable from our time together, note any next steps we discussed, and offer a next time to connect."
Get Started with ArcVida
If you need specific support and guidance with networking to reach your next career goal, connect with us. ArcVida's programs are designed to help you find the best fit for your career trajectory, including drafting exactly what to say when you're networking and creating personalized strategies for connecting with people.
Take our Archetype assessment to get started. You'll discover your career archetype and understand where you need professional support in your job search.

Published on 7/12/2021