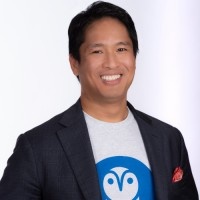 We are pleased to announce that Ron Rapatalo has joined our operations team as a cohort leader and communications consultant.
Adding Ron to our team is exciting because Ron has both a successful career in education, non-profit, and executive recruiting, and also is bringing his own purpose to our client-facing content and our external communications. As we continue growing, we know that his wisdom and skills will strengthen our strategy, inform our tactics, and enliven our communication, while our job-seeking clients benefit from his experience.
Currently working full-time as an executive recruiter at Edgility Consulting. Ron finds and places leaders in K-12 schools and non-profit organizations, leading nationwide searches with a diversity, equity and inclusion lens. As an ArcVida cohort leader, Ron will use his expertise to guide professionals through their career transitions.
Ron shares why he joined ArcVida, "Anna Hunter, ArcVida's co-founder, was my career coach in 2012. Her program worked for me to find more happiness in my own career. When Anna approached me in March, I was impressed with ArcVida's structure of group learning, methodical career guidance and 1:1 coaching because it reminded me of the best fitness programs' structure." Rapatalo continued, "Most of all, I was excited about ArcVida's anti-racist values and our shared focus of eradicating racism in the work we do."
As a cohort leader, Ron applies his intuition, training and professional experience to guide job-seekers. "I help my clients see the adaptive and technical challenges in their careers. And through questioning and pattern recognition, my clients and I devise solutions unique to how they see their futures unfolding," says Ron about his approach. "I have a deep focus on the K-12 education and non-profit sectors. That said, I have guided people across several industries and across a range of life experiences."
With regards to communication Ron says, "I know what I believe in and am vocal about it. I believe in racial equity and am unapologetic talking about systemic racism, white supremacy structures and values. I believe that I am here to dismantle racist systems and to bring many people together to do that work with a shared goal of individuals living happier, healthier, more aware lives."
In his spare time, Ron loves spending time with his wife Shanita and his daughters Sofia and Ava, watching reality TV, enjoying Jeopardy!, or devouring favorite movies/shows on Netflix. He's also an avid yoga practitioner, meditator and obstacle-course racer.
You can read Ron's blogs and more about his personal story on his website and follow him on LinkedIn profile.
Published on 6/10/2020