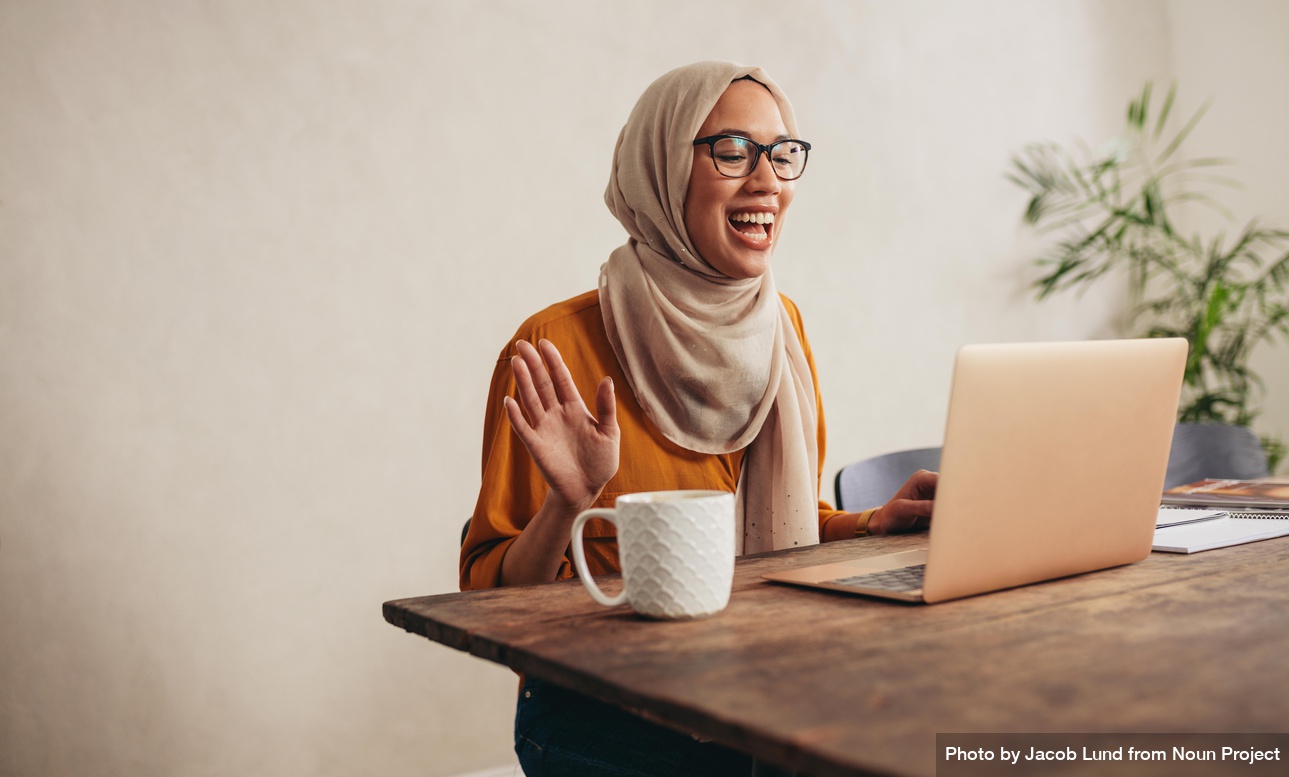 When it comes to interviewing, there's been a lot of advice about what is proper etiquette in regard to applying, acceptable questions to ask during an interview and the appropriate type of follow-up message. Let's review current best practices when it comes to looking for, interviewing for, and following up with professional work opportunities.

First Impressions are Everything
A pre-pandemic flow of making connections would be to meet people, have few conversations about possible employment, figure out if you'll be a good fit, and then get an invitation to apply. But during COVID, it can be hard to meet people. If you want to stand out in a job search, you still have to network – just change tactics. Connect through social channels, online networking events or LinkedIn through mutual friends. It's all about joining online groups and scheduling Zoom meetings these days!
After connecting live, or even in person (if possible), and brainstorming if there's a role where you'll thrive and be a top candidate available, your connection will be able to advise you on how you should meet the hiring manager. Although this process may seem slower than applying online, your personal connections will take you further than an online resume ever will. Side note, if someone offers to forward your resume to a recruiter, don't rush to do that. Introducing yourself with a resume is still a bad idea!
Hard Copy Resumes or Online?
Living in COVID times means very little is done in person, especially concerning finding and landing professional work. Ten years ago, there was still some credence to the idea that "hitting the pavement" and handing out resumes in-person to potential employers was a good idea, helping to add a personal touch to your job inquiries. However, today and even pre-COVID, people don't like dealing with a lot of paper.
One of the things we preach at ArcVida is the importance of not cold applying for work. Why? It's highly impersonal, and the average recruiter spends 5-7 seconds, yes SECONDS, looking at resumes submitted online. In fact, some great statistics about how recruiters process online applications can be found here. Instead of cold applying – with paper or online resumes, build relationships with those doing similar work.
It's OK to Talk About Money
Prior interview etiquette discouraged any money talk until at least the second interview. Seeming money-concerned too soon was seen as gauche. But now, people decide whether to even consider an employment opportunity based on compensation.
Many organizations are willing to put pay rates directly in job postings so applicants know the expectations upfront. This saves job seekers from wasting time and effort pursuing a job that doesn't pay enough to meet their needs, while also saving employers time during the interview process as they won't have to worry about desirable interviewees turning down offers for lack of pay.
When pay rates aren't listed, do your research through conversation, online pay compilation, or salary research services to understand what the market compensation is. It's all right to ask about the position's pay range near then the end of your first official phone screen or interview. By asking at the end of your first interview, you've given the hiring manager the opportunity to get to know you and your level-setting expectations.
Don't Forget to Follow Up
As is true for most things in life, gratitude for a professional conversation goes a long way. After an interview, send a "thank you" message to your interviewers for their time and consideration. If you don't have your interviewer's contact information, it's ok to reach out to the interview coordinator and ask them to pass along a note.
Make sure to follow up with a thank you in the first 24 hours after an interview. Why? Because this a timely response, while you're still fresh in the hiring manager's mind, gives you another chance to express your excitement and gratitude for the consideration. Timing can be very important. If a hiring manager reaches out to you, make sure you respond ASAP. They're looking to fill a role, and by responding quickly, you'll reinforce your qualifications and excitement with the interviewer and leave a positive impression of your professionalism.
If you don't hear back from a hiring manager or recruiter after an interview, it's ok to send a follow-up message after 5 to 7 days asking for an update and reiterating your gratitude for being considered, appreciation for the interviewer's time, and re-stating your excitement about the opportunity.
Remember That it Really Isn't Personal
If you don't get the job you wanted, don't get demoralized and stop your career transition. Employers often have specific ideas about skill sets and personality types for their ideal candidates and team formation. If you didn't fit with one opportunity, you can position yourself as a top candidate for another exciting role.
If you're not getting the right interviews, or if you keep getting interviews but aren't progressing to the next round, or if you keep getting through several rounds of interviews but never receiving a job offer, you may need professional guidance to get the results you want. If you're working with ArcVida already, ask your cohort leader to help you schedule a private session with a mentor.
Get Started on Your Career Transition
If you're not working with us yet, we encourage you to set up a free strategy call to share your situation and goals. After your initial call, we'll be able to recommend a program that will best suit your career goals, and help you get there. Your work happiness is our priority.

------------------------------------
More reading:
Stay Chill Before Your Interview
Published on 4/15/2021