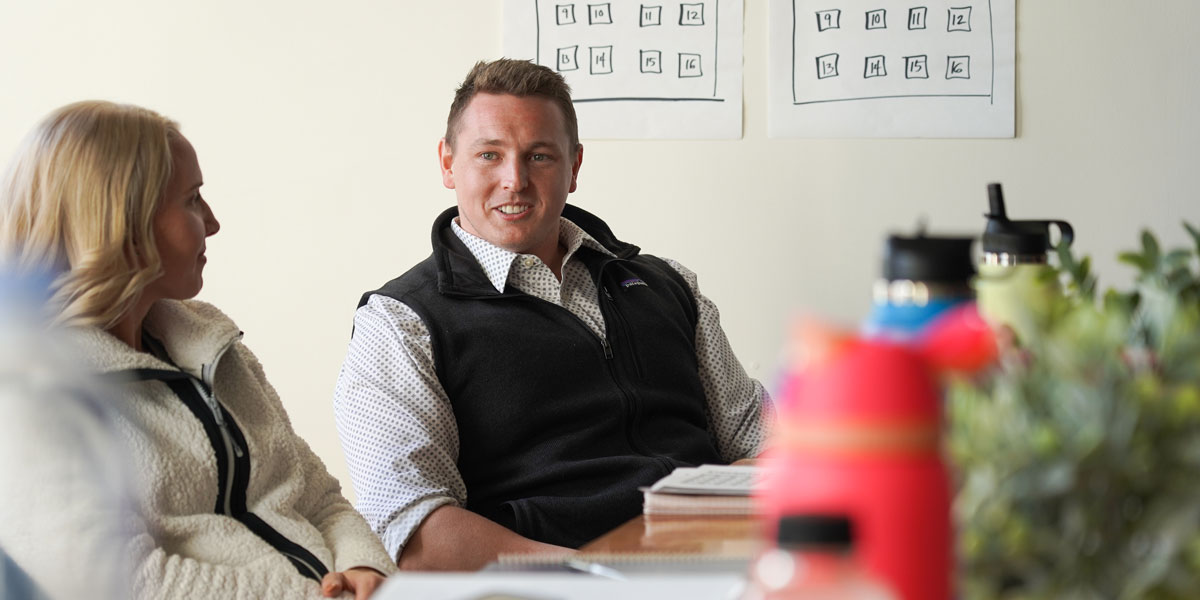 As we grow, we are adding professionals and leaders with a range of experience to our team. ArcVida mentors are trained in our innovative process and have deep experience in navigating professional conversations and transitions. As part of our programs, mentors meet privately with our clients as they work to find their next, optimal career move.
We are happy to announce that Logan Joyce is joining our team as a cohort leader. While he is training to lead cohorts, he is available as a mentor to anyone who is actively engaged with ArcVida in navigating their career transition.

When someone joins our team, it's because they have the experience, wisdom and heart to guide and support other professionals. So, we asked Logan to share more about his career journey with us!

What was your undergraduate experience like?
I had a phenomenal undergrad experience. I majored in Biblical Studies with a Leadership Minor at North Central University in Minneapolis. I played soccer there which allowed me to travel North America with a bunch of my best friends. And when I was home, I was fortunate to lead a number of leadership development initiatives at my university and Minneapolis at large. My favorite among those roles was leading interfaith dialogue between evangelicals and Muslim immigrant communities in the city and facilitating LGBTQ+ reconciliation with faith communities in the city. I loved every part of my university experience!
Those initiatives led me to leadership positions in the nonprofit sector. I led the University of Minnesota chapter of Chi Alpha USA and my first five years out of school were spent as a pastor (I promise, I can explain!) of a local church.
How did you spend your summers?
My summers were saturated between soccer workouts, expanding the above leadership initiatives, and working restaurant jobs to pocket enough cash to buy an engagement ring for my now wife (I proposed my senior year)!
What was your first job after college?
The week I graduated college, my wife and I got married, bought our first house, and started a brand-new satellite campus of a large church in Minneapolis. My primary responsibilities there were in training and equipping what ballooned to over 300 volunteer leaders and mentors to carry out the mission of the church.
The position was, in many ways, a Goldilocks situation for my personal leadership capacity. I delivered keynotes multiple times a week, facilitated Socratic dialogue for personal formation, and spent a lot of my time helping people hungry for growth scaffold toward their greatest potential realized for the bettering of their worlds.
In what ways was it not a good fit?
I loved, and still love, the church and the world of the church, but the impetus to enter that world was the ability to help people find holistic health and meaning. I quickly realized that even the most effective programming presented serious shortcomings in allowing my people to live out their purpose and potential where they spent the majority of their waking hours.
How did you decide to go to graduate school?
In order to step into the consulting world, I had to get a couple of advanced degrees—an MBA as well as a graduate degree in organizational psychology—really quickly. I was really lucky to have an employer who hired, trained, and let me step into consulting work while I was still in school. It was imperative that I get those degrees to get a seat at the table with my clients.
Did have any "aha" moments in graduate school?
Since I was in school while working full-time as a consultant, I was constantly implementing my education to offset the challenges and blind spots of our curriculum and outreach. InsideOut Leader, the marquee service of the consultancy I now operate as President, was birthed out of that unique cocktail of education in psychology, leadership theory, and business efficiency alongside the real-time application I was a part of on the ground in my client organizations.
How did you pick a job after graduate school?
Because of that InsideOut Leader leadership philosophy, I was ready out of graduate school to start my own company and stake my future on implementing that material to equip organizations. I was lucky to have avoided non-compete terms in my contract at my previous organization and to be released with a blessing to pursue my new offering, so I could carry all of my expertise and market knowledge right into the start of my new organization.
Why did you transition into your next job and how is it a great fit for you?
Gray Matter Growth is where I plan to be for the rest of my life!
With my particular personality, there's nothing more energizing and incentivizing than navigating every challenge and opportunity that comes with entrepreneurship when it's built on your sort of pet passion. Every step forward the business takes is a step forward for these ideas I believe in with my whole freaking being! Every challenge to overcome is worth overcoming so that this idea can continue to make a difference for the people I feel about. Entrepreneurship in the name of the thing you believe in most is so fulfilling and exciting for me!
What are your experience and results from networking?
I would be nowhere without a phenomenal network. My network has carried me every step of the journey in my career. I landed my first job out of school because of key mentors in my life. I was recruited to make a gigantic leap from nonprofit management to corporate consulting through my network, and when I hit big snags in the road or needed big help in landing clients, writing business plans, getting my foot in the door in key segments of the business world and just generally unsure of my next steps, there were always the right people to lean on and find advice and believe in the future I was building.
What are some key personal lessons about creating your own career path that you'd like to share with ArcVida's jobseekers?
Go out of your way to connect with and glean from the people you respect most at each step in your journey. I have a personal board of advisors of six business leaders whose family lives and community involvement I respect who I took every opportunity I had to connect with them.
Be all in. It would be easy enough to think my first job had very little to do with my second or my current, but I was 110% dedicated to each step along the way, and the lessons, the hurdles and the relationships from each job continue to reap the reward. You probably aren't in the perfect job right now, but if you go out of your way for your people today, you won't regret it tomorrow.
It's not about you. Leadership is about stewarding resources. The people who win over 50-60 years of career are the ones who look to serve and go out of their way to understand the people on their teams. It may seem like selfishness pays off in the short term, but in the long run, being your best for the best of your people is the formula to winning over and over again.
How does your company hire/work with a motivated, ambitious, working professional audience?
Gray Matter Growth equips team leaders to consistently engage in their people, teams, and organizations for increased peace, productivity, and profit. Highly aligned with ArcVida's mission to align who you are with what you do, our consulting work is built to get crystal clear about how to structure your work environments in a way that allows you to leverage the best of you for the greatest impact possible.
Why are you excited to join the ArcVida team? What attracted you to our mission and what are you excited to bring about your experience to help our clients?
There's so much overlap of heart and mission between what ArcVida is doing with professionals in career transition and what Gray Matter Growth does with work teams and organizations. I feel honored to join the team and the heart to see awesome people find the places where their best is put to work for the best of others day after day! I think I can bring some goodness to the table, but I also believe I'm going to learn a ton from this team and this approach!
Follow or connect with Logan on LinkedIn.
-----------------
Work with a Career Guide
Get started with ArcVida by discovering your career Archetype! Your archetype will set you up to receive personalized career guidance from ArcVida mentors and leaders. If you're in career transition and would like a guide like Logan, check out our programs and schedule your free career strategy session.
More Reading: Meet ArcVida's Mentors and Cohort Leaders
Published on 6/14/2021