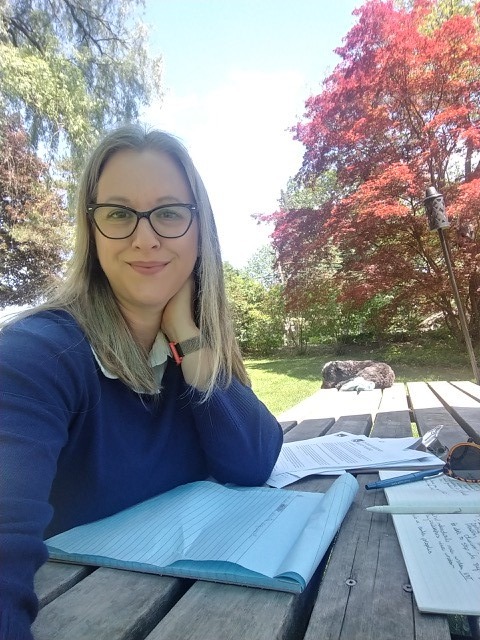 As we grow, we are adding professionals and leaders with a range of experience to our team. ArcVida mentors are trained in our innovative process and have deep experience in navigating professional conversations and transitions. As part of our programs, mentors meet privately with our clients as they work to find their next, optimal career move.
We are happy to announce that Madeleine (Maddie) DelVicario is joining our team as a cohort leader. While she is training to lead cohorts, she is available as a mentor to anyone who is actively engaged with ArcVida in navigating their career transition.

When someone joins our team, it's because they have the experience, wisdom and heart to guide and support other professionals. So, we asked Maddie to share more about her career journey with us!

What does your employer offer that appeals to college graduates?
I work at Smith College in the Jandon Center for Community Engagement. The College itself offers Master's programs in Master of Sciences in Biological Science, Master of Fine Arts in Dance, Master of Science in Exercise & Sport Studies, Master of Fine Arts in Playwriting, Master of Social Work, and Master of Arts in Teaching. They offer a Ph.D. in Social Work. They offer non-degree studies including Interdisciplinary Studies Diploma Program, Mathematics Post-baccalaureate Program, and Summer Education Courses for Teachers. Smith also offers Executive Education programs including Increasing Your Leadership Resiliency, Effective Business Problem-Solving, and an Executive Education Certificate.
My department works specifically as the hub for externally-facing partnerships for students and faculty focused on equity, inclusion, and healthy communities. This means that we use an ethical, asset-based approach to support community organizations and community-based scholarship. If someone is a member of a community or a community-based organization that would benefit from the support of college students and/or faculty (wrangling and analyzing data, translation services, grant writing, social media support, tutoring, etcetera), we might be able to help!
We also have so many connections! The Smith Alumnae Network is global and amazingly supportive! If you want to connect with someone working in almost any field, I probably know a Smith alum who is working in that field. If I don't, I know someone who knows someone.
The Jandon Center is also connected with people regionally and nationally who are working to dismantle systems of oppression and strengthen systems of equity and justice. We collaborate with communities and community organizations who work in fields from climate resilience/environmental justice to youth participatory action research and mentoring to racial justice.
What was your undergraduate experience like?
When I went to Smith College, I started out believing I was going to go to medical school. I was so confident that would be my path that I remember telling my parents how disappointed I was that I knew my path because it eliminated the opportunity to explore different interests. I was envious of people who had no idea what they wanted to be. I also went into college not realizing how much more challenging the courses would be and how much I had relied on the support and structure that my parents provided when I was in high school. I took too many advanced science classes too soon. After three semesters of chemistry, invertebrate zoology, and cell biology, I was miserable and not doing well. So I switched! Dropped all the pre-med stuff, decided to major in psychology. And I took Italian!
My path as an undergrad was very bumpy. Even though I was successful in high school, I was a terrible college student. Fortunately, my undergrad work did set me up to be able to pursue teaching and get a Master's in Psychology. And while I didn't stay in teaching directly, my love of supporting students and working in education allowed me to find my way to working in higher education, which I love.
What did you do during the summer?
My most rewarding summer experiences were working at a summer camp with preschool students. I adored those kids! More than that, I adored the experienced teacher I worked with. She was funny and real. I learned so much from her!
Do you have significant non-profit experience?
I have worked and volunteered in non-profits connected with education for years. I learned so much from working on the Board of a progressive elementary school for a number of years. I was Vice-Chair of the Board and chaired the Trusteeship Committee. I also sat on the Diversity Committee and the Development Committee. I learned so much from those experiences. I had never been on a board before and envisioned something akin to the board of the bank in Mary Poppins – very stuffy old, white men. That image left me feeling a bit intimidated and out of place. I worked hard to increase my confidence and make my voice heard. It was an important experience in my life.
What was your first job after college?
I was an assistant in a Montessori pre-school and kindergarten in Colorado Springs, Colorado.
Because of my experiences working at the summer camp (which was based in a Montessori school in Connecticut), I went in with some comfort and confidence about the job. I knew what to expect. I felt very comfortable in the space. I loved working with small children. At that time, I thought maybe that was what I would want to pursue as a career.
Although as it turns out, I actually find working with preschool and kindergarten-aged children pretty boring. There is quite a lot of tying shoes, making snacks, and tidying up. I liked the parts where you got to have interesting conversations and hear what they are thinking – until you find out they are thinking about Mighty Morphin Power Rangers for the millionth time.
What made you decide to go to graduate school?
My undergraduate experience left me feeling a little shaken. Part of my identity at that point was being an excellent student and at Smith, I was far from an excellent student. In some ways, I went to graduate school to prove to myself that I could do it; to reconnect with that part of myself that I lost. I also loved Psychology and was trying to decide what my next step would be.
Did you have any "aha" moments in graduate school?
There are so many "aha" moments when you are studying psychology at the graduate level! I took an entire course about divorce and learned so much about relationships and societal expectations. I took a course on perception and still contemplate the optical illusion of a full moon looking huge some nights and tiny on others. I took a class on research methods and can never read a study in a magazine or newspaper without saying, "I question their methodology." I completed a Master's thesis on memory and the fallibility of eyewitness statements. It makes me even more grateful that we have video documentation of encounters with the police.
How did you pick your job after graduate school?
I didn't! Not right away. I stayed with teaching and tutoring, which I loved certain things about, but didn't love all of it. Then I rethought things a bit after having children and staying home with them. I tried different things to gain experiences and skills, thought about pursuing another degree, and then went and talked with ArcVida's Sr. Coach Colleen DelVecchio, who was working a prior role as a career counselor. I also talked with friends who were incredible cheerleaders! They helped me find threads of interests and skills that were consistent throughout my life. With that help, I was able to home in on the fact that working in a place that was mission-driven and focused on equity and inclusion was incredibly important to me. I also discovered that while I didn't want to go back to classroom teaching, I loved working with students and I loved being in the world of education. Working in higher education allows me to work in a place where I am constantly learning and growing; I am working toward a more just and equitable world; I am supporting students. It's got it all!
How is your current role a great fit for you?
The Jandon Center is steeped in a philosophy that is kind, compassionate, and mindful. Being in that space and working with such a thoughtful, caring, respectful group of people is pretty amazing. Not only that but my current role really allows me to do all of the things I am interested in doing. I meet with students every week to support them in their work. I am able to think about big-picture goals for our department and work with our team to develop ways to make these goals a reality.
I love that I am able to constantly learn, grow, and improve my skills. Last week, I completed an 8-session training course on support group facilitation. It not only helped me think about the student groups I work with and how I can improve them, it gave me solid tools to run groups tackling challenging topics such as racism and discrimination.
What are your experiences and results from networking?
I used to be such a shy person! I had no idea how to network. Just thinking about networking made me feel sick to my stomach. I have totally rewritten that mental narrative. Networking is an incredible tool! It does not need to be complicated or stressful. It is because of networking that I found most of the jobs I've had over the course of my career. It is because of networking that I've helped others go from moving from one temp job to another to a long-term career path. Not only that, networking has allowed me to learn about other people and what they do. I have often felt that I didn't find work that I was truly passionate about earlier in my life because I could not even imagine all of the possibilities! Networking has helped me expand my vision of what is possible. It has allowed me to support others in their journey.
What are some key personal lessons about creating your own career path that you'd like to share?
1. We are all unique and valuable. Your combination of strengths, interests, and experiences truly are yours alone. Celebrate them! Sometimes when we think of something that comes easily or naturally to us we don't view it as a strength; we undervalue it. Remember that these qualities are valuable personally and professionally.
2. For those of us who are shy or uncomfortable with networking (or both), there are skills we can learn and practice that will help us overcome shyness and get really comfortable with networking.
3. For those of us who are gregarious or comfortable with networking (or both) there are skills we can learn and practice that will help us use our networks and networking opportunities for our career journey.
4. All the twists and turns along our life paths add to the richness of who we are and what we can offer each other.
What are you excited to bring about your experience to help ArcVida's clients?
I am thrilled to be joining ArcVida's team! I did not follow the career path I imagined. I really learned from working with people who could help me see my strengths and interests and how I could match those strengths and interests with positions and groups that would benefit from them. I am excited to help more people experience the meshing of what we, as individuals, can offer with a job or company that will benefit; contentment, fulfillment, purpose, value.
Follow or connect with Madeleine on LinkedIn
-----------------
Work with a Career Guide
Get started with ArcVida by discovering your career Archetype! Your archetype will set you up to receive personalized career guidance from ArcVida mentors and leaders. If you're in career transition and would like a guide like Maddie, check out our programs and schedule your free career strategy session.
More Reading: Meet ArcVida's Mentors and Cohort Leaders
Published on 6/3/2021