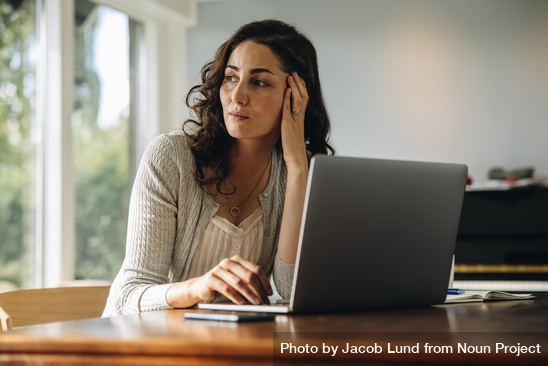 Societal narratives of "find your passion" and "do what you love" combined with "you can be anything you want to be" can hinder our ability to decide what we want to do. I'm sharing five things to help you find your way to a job you love. It's all about exploring and letting go.
1. Explore - Volunteer
2. Try it out - Try temporary or limited-term positions
3. Talk it out - with your friends, classmates, coworkers about what are your skills and talents.
4. Double talk - talk with friends and others about their jobs. Be curious!
5. Let it go - sometimes our own narratives about where we should be in our lives and when gets in the way of figuring out what we are interested in.
I never knew what I wanted to be when I grew up. I still don't. I love my job. Honestly. Every day I have the opportunity to learn and grow and participate in interesting and important work. And yet, occasionally, I get caught in the trap of wondering "is my work something I am passionate about? Am I following my bliss? Do I have a job where my work feels like play? Have I figured out what I really want to do with my life?" Absolutely not. If I followed my bliss, I would be getting paid to drink coffee and chat with friends, or try one new recipe a week (or a month if I'm being honest).

For some of us, the societal narratives that offer limitless possibilities and joyful employment are not always helpful. They are overwhelming and destructive. When we are beginning our careers, many of us don't even know what possibilities exist so how can we accurately decide what we want to be? Growing up, I knew I could go into the trades like many family and friends but I knew I didn't want to. Too much hard work in lots of physically and mentally challenging situations. I also knew I could become a doctor, lawyer, teacher, astronaut, or President of the United States (because I could be anything!). But that was the extent of my understanding. I remember contemplating that doing something stupid or illegal could come back to haunt me on the campaign trail. I actually spent time worrying about this. Did I ever think I was interested in going into politics? No. I also thought about what would prevent me from being an astronaut. Physical limitations? Asthma? That I hadn't pursued a degree in whatever you need to be an astronaut? Would I ever want to be an astronaut???
Feeling like I needed to make a life-long decision while not having any sense of what my options were and simultaneously feeling like I had infinite choices was paralyzing. I didn't know what I wanted to be and I felt ashamed for not knowing.
So what do you do when you don't know what you want to do? You explore and you let go a little.
Volunteer your time. Find something you care about and get involved.
This feels a little like being told to do the things you like to make new friends. Shared interests + New People = Instant Friends! This never rang true for me (Shy Introverts Unite (At Home Separately!). But I think the idea is a sound one and it applies to volunteering as a way to explore the professional world. For a couple of hours a week, you can do something that is meaningful to you and that benefits others. In addition, you get tons of low-stakes opportunities to explore skills and job roles. You learn new things and get even better at things you already knew how to do. You build connections with your community, with people in the organization, and with other volunteers. Not only that, but you'll get to see and understand how that organization functions.
By volunteering at the local survival center, I realized that the Volunteer Manager is critical for an organization that runs on hundreds of volunteers. Without someone in that position, the organization truly wouldn't be able to function. The Volunteer Manager recruits and trains new volunteers, organizes the schedules, interacts with and supports clients, and coordinates and manages lots of people and information. That job role is complex, interesting and especially good for people who are very mission-driven and want to work directly with people. I never would have understood that position without the time I spent at the survival center.
I've also spent time as a volunteer in various ways at my children's elementary school. Not only did I feel like I was helping a community that was important to me and my family, but this volunteering also worked with my schedule and the schedules of my small children. Through that work, I honed important hard and soft skills (organization, communication, leadership, planning, marketing, volunteer management) which allowed me to reevaluate my skills and areas of interest while uncovering areas that were best delegated to someone else. I started by helping out with events like the annual children's carnival. Starting with small commitments, I grew my participation was able to be involved in lots of interesting projects. I sat on the school's Diversity Committee, supported fundraising efforts, co-chaired the annual fundraising auction, and became a Board member, eventually sitting on multiple committees including the Executive Committee. Starting in roles that were comfortable for me allowed me to step into larger roles. I built skills and confidence. This in turn allowed me to imagine myself in places I had never considered before.
Try it out. Take a temporary or limited-term job.
Growing up, I knew lots of people who picked a job or a company in their 20's and stayed with it until they retired. For lots of reasons, between the gig economy and shifts in employee benefits and our societal culture, the jobs we choose no longer need to involve a long-term commitment. When starting out, I was mired by the overwhelm of picking a job that I would want to do for the rest of my life. Teaching sounded interesting to me but I didn't want to commit to teaching until I retired. I loved the idea of being a therapist but did I love it enough to go back for another degree and face the debt that would inevitably accumulate. Maybe? What I realize now is that taking a job isn't like getting married. You are committing to working there for some amount of time. You don't need to take a vow of 'til death do us part.
Temporary jobs or jobs with a commitment of only 1 to 2 years can be a great way to do some more exploring. I've done this more than once and am grateful for each of those experiences. A short-term office position at a national non-profit helped me realize that I can be happy in many types of roles as long as I agree with the mission of the company. I also honed my research and database organization skills—things I rely on in my current work. Another temp position at a local college allowed me to build my network within the college and further develop my management skills. The position I am so happy in today is a direct result of the temp work I did a number of years ago.
Talk. Start Conversations with Friends, Neighbors, and Other People You Know.
There are so many good reasons to start conversations with people you already know. I started these conversations out of desperation. I was so wrapped up in feeling lost that I had no idea what I was good at and couldn't see any of the common threads that had run through my life. Talking with people, friends, and coworkers, in particular, allowed me to take a step back and see myself through someone else's eyes. They helped me see that I had skills and talents that were valuable. Because they came more naturally to me, I didn't think of them as a skill. But here's the truth, if you are warm and welcoming, that's a skill. Not everyone is good at that. And there are lots of places where that skill is useful. If you are someone who takes some time to contemplate, re-evaluate, and develop new ideas, that is a valuable skill set. Those things that you do without even thinking about it? Those are the skills and talents that will make you an asset in the right place. Not everyone can do what you can do.
Talk Some More. Conversations with the people you know give you more exploration time.
I recently had a conversation with a friend about how he spends his days as an engineer. It was fascinating! It gave me a much better idea of what his workdays are like and why he enjoys it. I also got a sense of how someone can do an engineering job from home. I was picturing more like one of those science kits you can buy to build your own robot and less working on computers. Now I know!
Let it Go. What are you holding on to that isn't helping?
If you are holding onto the feeling that you should know exactly who you are and what you want to do but you don't and that makes you feel bad, let it go. If you, like me, imagined that your life should follow a straight and predictable path but you don't even know how to begin, don't worry. If I could go back to my 18-year-old self and give her some advice, I would say, "if you don't know exactly what you want to do or what you want to pursue, that's great. Because that means there are so many interesting things you can try out. Every single thing you do will add to your skills. Each experience will influence the next. And when you stop worrying so much about it you'll notice that in reality there are so many things you are passionate about. You are passionate about justice and equity (and it's ok that you don't want to be a lawyer). You love organizing data (and it's ok that you don't want to be an accountant). You love being connected to people who are learning and growing every day (and it's ok if working in a kindergarten classroom isn't as fun as you imagined). There is a whole, complex world out there and you will find more than one place where you can make a difference."
When I think of my own winding career path, there are definitely things I would do differently. But trying different things out is never one of them.
Are there ways of thinking that are getting in your way?
Up to 30% of ArcVida's clients are people exploring their options for meaningful work. We call this career path labyrinth; our structured, methodical approach with personalized guidance and flexible approach enables broad exploration that efficiently results in finding and making a career move to fulfilling work that aligns with your values. Schedule a free strategy session with us to learn more.
--------------------

More Reading:
Design an Awesome Life Instead of Following your Passion
The Power of Getting Other People to Tell Their Stories
How Should You Use Volunteering to Level Up in Your Career?
Meet ArcVida's Mentor, Madeleine DelVicario - Experiential Learning Coordinator at Smith College
Published on 8/3/2021