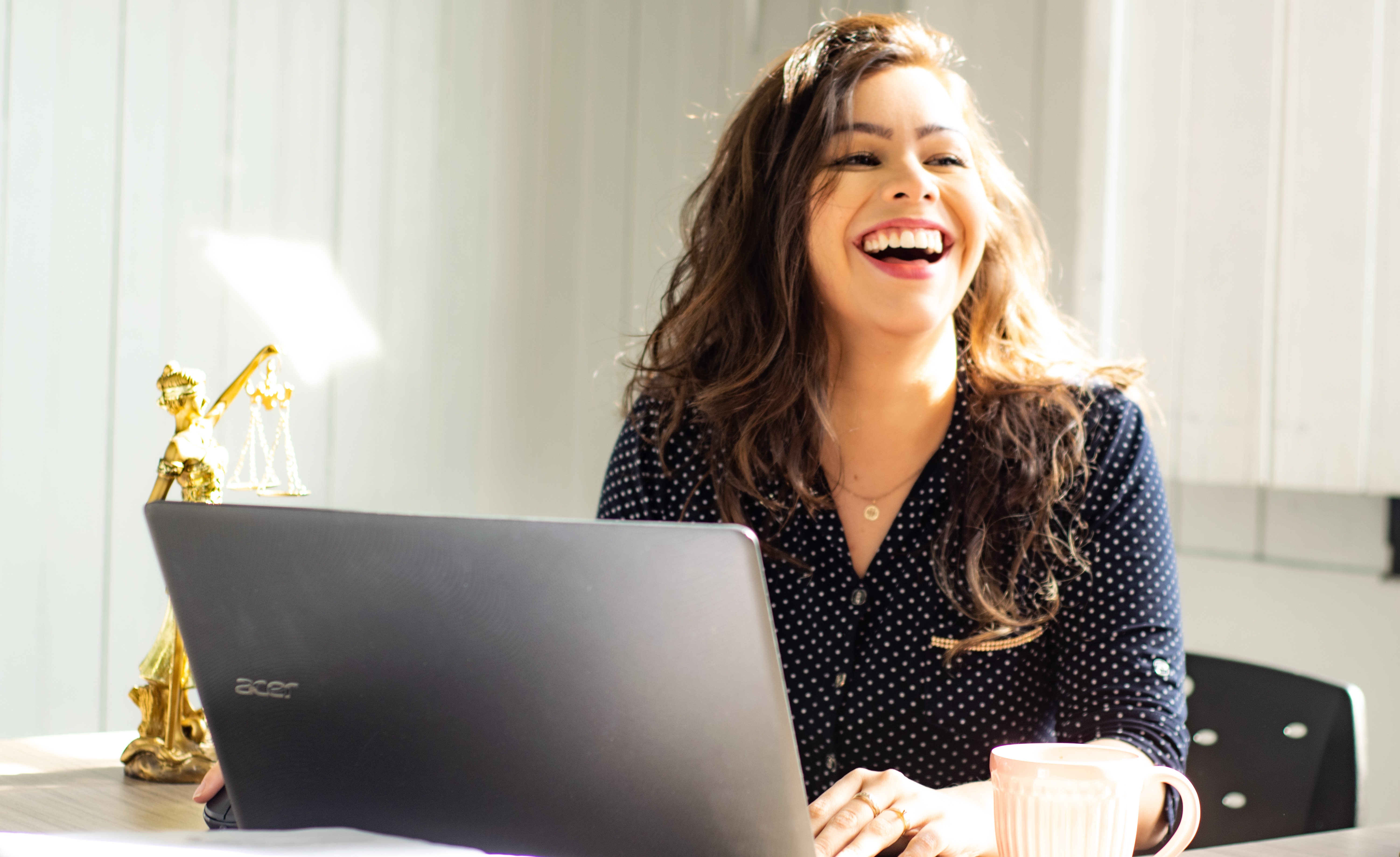 As we all continue to adjust to the long-term effects of this pandemic, some of us are starting to realize the benefits of working from home. According to CNBC, 55% of Americans plan to look for a new position in the next year and many are looking for opportunities in which they can work remotely in some capacity. As working remotely moves from a "nice to have" to a "definitely cannot go into the next level of my career without it," some are reconsidering what it means to truly have that WFH IRL.

The Great Resignation
Since March 2020, there's been a major shift, both physically and psychologically, in the working world. After a year filled with shutdowns, early retirements, layoffs and economic uncertainty, people decided they had enough and quit their rigid 9-5 jobs. The U.S. Department of Labor estimated a record 11.5 million left their jobs from April 2021 to June 2021 alone. Millions are ready for jobs that fit their personal and career needs.
Employees want their workplace atmosphere to mirror the flexible experiences in their personal lives, having an adequate work/life balance and spending less time on unfulfilling tasks like administrative work, business wardrobes, commuting, and office chit-chat. For those who have the space and want the flexibility and comfort, they can gain from not working in an office, working from home likely seems like the best option.
Why Should You Work from Home?
There's a big reason why professionals are looking for jobs they can work from anywhere. Working from home allows people to be able to enjoy the freedom in choosing where, when, and how they work, while also offering an opportunity for more creative environments. When choosing "work-from-home", many people are traveling to visit family or friends or experience a new place in the time they are not working. Another advantage is the work/life balance that motivates many employees to join the remote workforce. Time saved from commuting is used to exercise, sleep or spend time with family – all enriching, desirable activities. Unsurprisingly, remote jobs search is up 460%.
Questions to Ask Yourself When Deciding to Work from Home
Before you make the leap to setting up that in-home office, maybe ask yourself a few questions to decide if fully remote, hybrid or in-office would work best for you.
1. Are you able to create a dedicated work area?
2. Do you already have everything you'll need: laptop, mouse, fast internet connectivity, desk, chair, video light, headphones?
3. Will you be able to work and take meetings free of distractions?
4. Do you have the childcare you need for quiet, uninterrupted work?
5. Are you able to productively work without external motivators?
6. Will you be able to grow your skills and network as quickly there as in an office?
Lots of people will thrive in a traditional office setting and there's nothing wrong with that! While remote working can offer more privileges, you will still benefit from having in-person working sessions and brainstorms.
Making the Case for Working from Home
Once you've decided to partake in remote work, you'll need to prepare for your interview – whether you're interviewing for the first time or having a conversation with your boss. Once you're asked, "why do you want to work from home?" you can follow these steps to craft a successful answer.
1. List Your Reasons
First, you have to say why you'd be a great candidate for working remotely. Some reasons could be:
- Reduced workplace distractions
- A more creative and comfortable atmosphere
- Optimized schedule for higher productivity
- Elimination of daily commute and polluting less
- Saving money with lunches at home, lower wardrobe costs
- Flexibility to attend appointments for children or parents, or even walk a new puppy.
- Reduced stress from fewer micro-aggressions and sexual harassment
2. Explain the Employer's Benefits
Employers gain from reducing in-office presence too! These gains include:
- Lower office costs – many employers spend more than $6000 annually for each in-office employee.
- Increased employee retention and loyalty
- Fewer missed days - one massive employer reported 30% less employee absenteeism over a 12-month period.
- Fewer co-worker harassment incidents
- Much wider access to a national or even global talent pool.
3. Create a Link from Your Reasons to the Employer's Benefits
Here, you can compare your benefits to your employer's benefits. Not just professional but personal motivations can be used to make your case on why you should work from home. Some examples could:
a. Since you are more productive and creative at home, you're able to produce more quality work.
b. You're able your intellectual power planning and working instead of commuting.
c. By maintaining a positive work/life balance, you'll be a more engaged employee.
d. You'll stay healthier when you sleep more, eat better, and exercise more. And you'll avoid the annual flu and cold infection season (not to mention…Covid infections!).
4. Talk About your Other Qualifications
Research the position (through prior conversations) and be prepared to describe how you have the knowledge, skills, education and experience to create significant value for this company, department and team.
5. Demonstrate your Culture Addition
Learn the culture of the company and point out what you'll add to the team and how you'll connect with others to support individuals and champion the organization's value. Likely in the last year you've learned exactly how you work remotely with others. Write and then tell specific stories of how you add to a team or community while working remotely, to show how you're a standout. Do you lead remote meetings? Engage on slack? Champion values on social media? Conduct trainings in your function or useful skills? Show how you'll be a terrific remote teammate with these stories.
6. Show You're a Self-Starter
During the hiring process, this is the best opportunity to show that you're ready to work from home.
- Keep in constant contact with your recruiters and interviewers or boss if you already have the job.
- Answer emails immediately to show that you're able to keep the pace even if you're not in the office.
- Leave voicemails for future availability and call back ASAP if you missed a call.
- Follow up with thank you emails.
- No GHOSTING! As soon as you know you're withdrawing consideration from a role, send everyone you've spoken to a kind note.
Find Your Next Full-Time or Hybrid Role
For those who are ready to make the jump to working full-time remote or a hybrid of in-office and at home, ArcVida is ready to guide and support you as you find your next terrific remote career opportunity. Set up a free strategy session to get started. During your initial session, we'll be able to recommend what will best suit your career goals and situation. And then you'll be able to set up your new fish tank and a ring light for your new home office.

Published on 8/31/2021