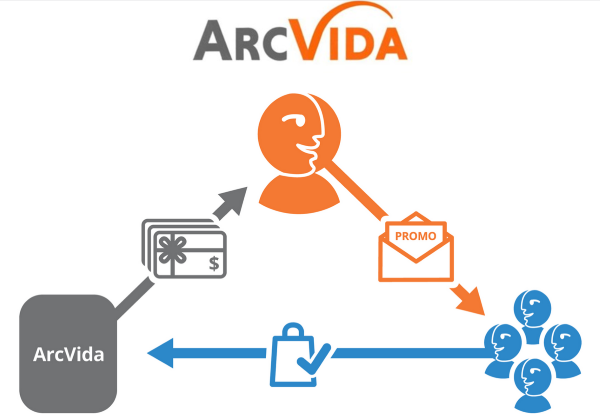 Since we began guiding clients toward long-term career satisfaction, many of them have gone on to refer additional job-seekers to our program. An introduction from a trusted friend or colleague is the best way for seekers to find us, and we want to recognize and reward those who help us reach professionals who are actively looking for work and want support.
To that end, we're thrilled to introduce our new referral program! Anyone who signs up can share discounts, and earn rewards or donations simply by sharing ArcVida with others in their network.
Who It's For
ArcVida serves professionals seeking satisfying full-time work in the U.S. While our program includes 1:1 time with coaches and is personalized on the individual level to suit each person's specific career needs, our jobseekers thrive on the interpersonal connections between clients. In weekly online meetings, participants swap stories of their progress and networking efforts, receive personal and general insights from client advisors, share resources and contacts, and ultimately rally together to support each others' career exploration.
The larger our base of friends, supports and clients, the wider the ArcVida network will reach, promising ever greater value as clients grow together and expand their professional networks. Jobskeekers - you can jump-start this process by inviting your peers to join you on your ArcVida journey. Not only does this help you speed the expansion of your own network, but those you refer will get a discount to give their search a shot in the arm and you'll earn your choice of rewards
Already secure in your career? That's great! There's a place in the referral program for you. Recruiters, therapists, colleagues, classmates, friends and relatives all refer jobseekers to our services. Sign up to share ArcVida with peers, mentees, and clients. Give seekers the gift of discounted access to ArcVida's services, and you'll earn a retail gift cards or the opportunity to support a nonprofit you're passionate about.
How It Works
When you sign up for the referral program, you'll get a unique link that enables you to:
*Share directly over social media, text, email, and more;
*Track clicks and measure your impact;
*Receive notifications about program updates;
*See your rewards roll in!
Share a $5 discount and earn $5 for each referral who signs up for ArcVida's trial. Share a $50 discount and earn $50 when your referral joins the full Career Activate, Career Pivot or private-coaching program. We offer rewards in the form of online gift cards to 40 different retailers and 10 non-profits, discounts on ArcVida programs, or donations to a charity of your choice. Joining this referral program also gives you an easy way to share a $50 discount code with people who might benefit from our services.
Our February Career Activate (0-5 years of experience) and Career Pivot (6-15 years of experience) cohorts are currently forming. Join now to get your personal referral web page and set others on the path to careers they can love!
Published on 2/5/2020