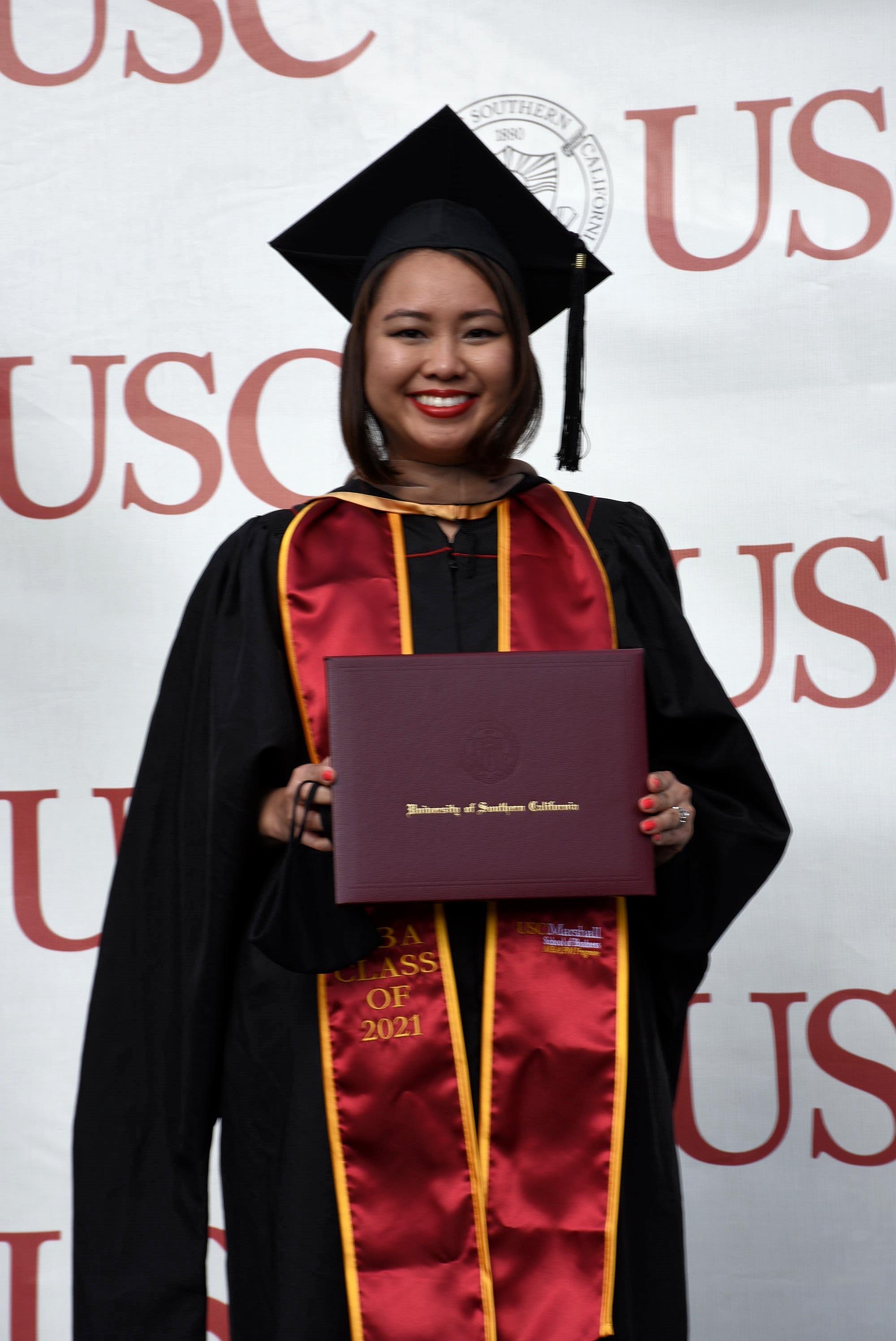 Heather Le is the Senior Manager II, Product Management-Walmart Data Ventures. As the first U.S.-born child in a Vietnamese immigrant family, she graduated from Drexel University with a Bachelor of Science in Business Administration, Marketing Concentration. Additionally, she completed a 5-year co-op program through LeBow College of Business and completed her MBA at USC Marshall School of Business. She completed her MBA 14 years after graduating college, proving that no career path is linear!
Heather connected with ArcVida to share her career journey with those seeking a career transition.

What does your company offer that appeals to college graduates in their 20s & 30 & 40s? If anything?
Walmart is a Fortune 1 company, with 2.3 million employees! It is a massive company, with so many opportunities to work on just about anything. Walmart has been going through a digital transformation, which presents exciting opportunities for young professionals. According to Fortune, some of Walmart's business priorities this year include: "improved supply chain; automation, including in-store robots; grocery order fulfillment; and tech to improve shopping for customers."

Furthermore, the Global Tech organization has many opportunities for remote work, as well as collaboration with teams all over the world. Flexible location and hours has become more of a priority for professionals as a result of the pandemic. And we are hiring more people for Walmart Data Ventures too.
How did you approach your undergraduate experience?
As the first U.S.-born child in a Vietnamese immigrant family, I approached college differently than most of my peers. My dad passed away when I was a teenager, so my goal was to land a full-time job upon graduation so I could be financially independent. I was very motivated to gain professional experience and learn on-the-job skills, outside of the classroom.
I graduated from Drexel University with a Bachelor of Science in Business Administration, Marketing Concentration.
Did you have any noteworthy internships?
I completed a 5-year co-op program through the LeBow College of Business, alternating between full-time classes and three, 6-month internships at Metal Marketplace International, a precious metals and jewelry wholesaler, Innovation Philadelphia, an economic development firm, and McNeil Nutritionals, a subsidiary of Johnson & Johnson. I also took on an additional internship at Enterprise Rent-A-Car, on top of waitressing at a sushi restaurant on the weekends to help offset the cost of private school education and city living.
Two of my internships helped spark my interest in marketing and technology. At Innovation Philadelphia, I had the opportunity to review the business plans of entrepreneurs applying for federal grants to kickstart their ventures. At McNeil Nutritionals, I worked as a Brand Marketing Co-op for two brands - Benecol cholesterol-reducing spread and Viactiv vitamin. That role opened my eyes to the world of consumer insights, digital marketing, and website design.
What was your first job after college?
Through Drexel's on-campus recruiting, I received an offer to become the first Philadelphia member of Citibank's Management Associate Leadership Development Program.
I enjoyed rotating through different roles as a generalist. This allowed me to learn about sales, customer service, marketing, and operations. I discovered that I enjoyed problem-solving and customer advocacy – foundational skills that have helped me adapt and transition between various roles in my career since then.
However, I was not passionate about retail banking and wanted to continue leveraging problem-solving skills and customer empathy in a more technical role.
Why and when did you transition into your next job? And the one after that?
After realizing that I wanted to gain more technical experience, I pivoted to management consulting at IMS Health, where I gained experience solving challenging issues for big pharmaceutical companies. However, I quickly realized that the traveling consultant lifestyle was not a great fit for me. I wanted to be closer to family and friends, so I moved back to Philadelphia and joined a small consulting firm called World Sales Solutions to work as an in-house consultant at SAP in a Program Manager role.
I spent close to four years there, helping launch several online customer communities to collect product feedback from senior leaders at Fortune 500, global enterprises. I worked closely with Product Managers and became very interested in their profession, I reached out to my clients for informal coffee chats to learn about the key skills required to be a successful PM and learned that I already had acquired some of those skills through consulting including cross-team collaboration, solving customer issues, relationship building, marketing, and technology.
I landed my first Product Management role at WeddingWire, which at the time, was a growth-stage startup. During my time there, I helped launch their first native iOS and Android app. For the past 8 years, I have been working in product management with increasing responsibility and scope, for startups and enterprise companies – and I love it! I would consider myself a product generalist, having launched mobile apps, websites, and B2B SaaS platforms.
How did you decide to go to graduate school?
I had been interested in pursuing an MBA for many years to gain more experience with strategy and entrepreneurship, but I really doubted my ability. Since I was not a strong undergraduate student and believed I would be much older than my classmates, I was very hesitant to apply to business schools.
When my husband finished medical school and residency, I finally took the leap, with lots of encouragement and emotional support from him and my family. After three years of juggling full-time Product Management roles and a part-time graduate school program (throughout the pandemic), I graduated with an MBA from USC Marshall School of Business in 2021 –14 years after graduating from college! Earning my degree was a transformational experience that I did not expect when I started the program.
Did have any "aha" moments in graduate school? Key experiences or internships?
At USC, I pursued a Technology Commercialization Graduate Certificate in addition to the MBA degree. I took several entrepreneurship elective classes which helped me gain more confidence in my capabilities. And I realized that I had the skills and experience to help established organizations with digital transformation.
These entrepreneurship classes reminded me that I had already built products for tech startups as well as for enterprises in a variety of industries. Previously, I had thought that being a generalist or "jack/jill of all trades, master at none" was not as valuable as being an expert in one domain. However, while I was in business school, I learned that my soft and hard technical skills were applicable and transferrable to many companies. That "aha" moment helped me become confident during interviews and networking.
How did you pick your job after graduate school?
I interviewed for several Product Management roles at great companies during my last semester of business school. I would have loved to join any of those organizations, so it was an extremely difficult decision.
I joined the Walmart Data Ventures team because I was excited to launch a new product offering for a new division of the company. One of my long-term goals is to develop leadership skills and become a Director or Group Product Manager, leading a team of PMs. In this role, I have the opportunity to coach and mentor other PMs and influence product strategy, which are crucial skills for product leaders. Overall, this job seemed like a high-risk/high-reward opportunity, and I was ready for the challenge!
How is this role a great fit for you?
I am most interested in bringing new ideas to life, launching products from "0 to 1." In this role, I am motivated by the potential business impact of the product I'm working on and excited to see how the market responds to our product and service offerings.
In addition, I have a strong sense of belonging within this team, although I work for a massive organization. My manager is an empathetic leader, and she demonstrates influence through referent power. I have already learned so much in my first year at the company.
What are your experiences with networking?
While I consider myself an outgoing and social person, professional networking has always been intimidating. Earlier in my career, I thought networking was an inauthentic way of trying to get ahead or climb the professional ladder. Through experience, I learned that the key to networking is building relationships and relating to others through common experiences and goals. It is rewarding to help others find a new opportunity or introduce people to your network. You never know what positive impact you can have by simply being open to a coffee chat or email exchange.
What are some key career lessons that you'd like to share with ArcVida's jobseekers?
1. Career paths are not always linear. Don't be discouraged by a meandering journey! It took several pivots and setbacks for me to find the right profession.
2. Take time to assess your long-term goals but be willing to take small steps in the right direction. For example, I have been interested in becoming an entrepreneur for a while. However, it isn't the right time for me. Rather than putting that idea on the shelf, I am gaining valuable experience launching a new business venture within a well-established organization. It's still a step closer to realizing my dream of becoming a tech founder.
3. Say yes! Keep an open mind when presented with opportunities. Even if it's an unfamiliar company name or a different job title than what you were targeting, it could still be a great fit for you. Take the call, reply to the LinkedIn message. Learn a bit more about the opportunity before making a decision.
Connect with Heather on LinkedIn.
Want to work with Heather? Walmart Data Ventures is hiring! Just search "Data Ventures" for open roles.
--
Interested in Making Your Next Career Transition?
Get started with ArcVida by discovering your career Archetype! Your archetype will set you up to receive personalized career guidance from ArcVida mentors and leaders. ArcVida's career transition programs are made for professionals actively looking for their best role yet.
Discover the program that's right for you and if you're ready, schedule a free strategy call to plan your next steps.
Published on 9/21/2021