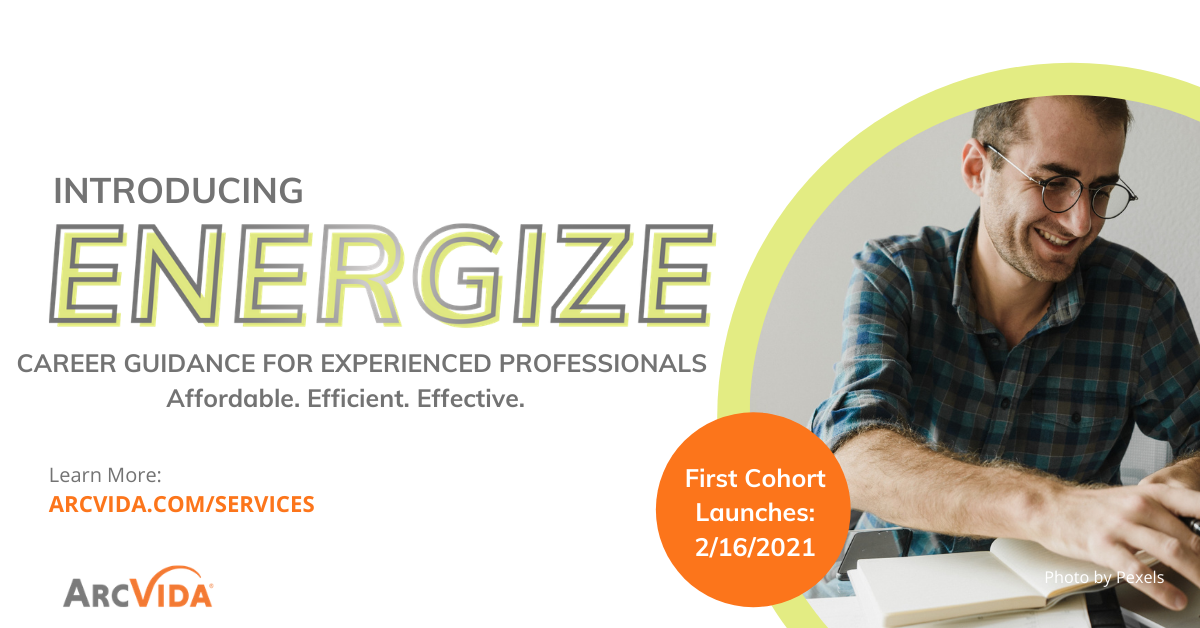 In 2017 we built and tested our career guidance platform – integrating the innovative "Career Happiness" process that Anna Hunter had created and refined in her years as a solo career coach. We started first by serving junior professionals - college graduates with fewer than five years of work experience - with our Career Activate service. In 2020, we extended our tech-enabled guidance to support mid-career professionals with five to 15 years of post-college work experience, through our Career Pivot service.
As we've been growing and building, we talk to a LOT of jobseekers for research, marketing, and service design purposes. Although individual experiences are different, the need for efficient, effective, affordable guidance with full emotional support is the same. With the pandemic, all professionals have been forced to adopt and use more technology. Last year, after the third experienced professional asked, "Where is MY tech-enabled service," we knew it was time for our next service.
INTRODUCING CAREER ENERGIZE
We're launching our Career Energize service to provide comprehensive career guidance and transition support for professionals with more than 15 years of work experience.
Although this is a new service, we have served experienced professionals with private coaching and occasional inclusion in our other cohorts, so we know our process works for more-experienced people to identify and make their optimal career transitions. Several of our guides - coaches, mentors and cohort leaders - are also experienced professionals who have navigated their own career transitions.
The Career Energize service includes a 2-week trial; 14 weekly live group sessions led by an experienced, trained professional; resume and social profile support; monthly 1:1 sessions with your coach or your mentor; learning customized to your needs; and full access to our private, positive, social network.

Here's what some experienced clients have said about their experience working with ArcVida.
Melissa M.
"ArcVida gave me empowerment and encouragement. When I felt vulnerable as a job seeker, this service gave me challenge and a pathway to create the career I needed. I have tons of gratitude for ArcVida coming alongside me during a vulnerable time. If you don't have a strategy, but you know you need one, this will do that. If you are a strategic person, this will help you build that fast and get moving on that"
Anita R.
"I had been good at networking for my employers, but I had to learn with ArcVida to become good at networking and marketing for myself. My networking conversations really helped set me up for success in finding my new role. Working with ArcVida helped me consider positions and talk to people I hadn't considered before. I knew I wanted to do meaningful work in a different function, but when I started looking for my next role, I really didn't know what I would do next. The networking conversations, which are the base of ArcVida's system, actually led me to my current role – doing meaningful work with two great bosses. "
Matt P.
"I appreciated the approach to authentic networking: the modules gave me a structure for having networking conversations that were rich, valuable, and added quite a bit of rich context and leads. The coaching was the difference between me ending up accepting a job and instead finding an opportunity that feels like a best fit, even in the middle of a pandemic."
Cohorts Form Monthly!
If you're actively looking for your next role and ready to energize your career. JOIN US!

Or email us at hello@arcvida.com to save your seat!
Published on 2/11/2021